Safety measures put in at Gullet Quarry following teenager deaths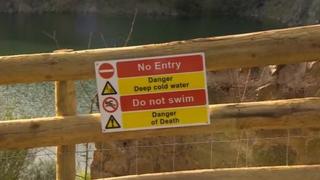 Safety measures have been installed at a quarry where two young men drowned.
Russell O'Neill and Justas Juzenas, died at Gullet Quarry in Worcestershire within a week of each other last July.
Fencing and signs warning of the dangers of swimming there have been put up and thorny bushes have been planted at the waters edge to act as a barrier.
The Malvern Hills Conservators, its owners, have written to local schools asking them to make pupils aware of the dangers of swimming in open water.
Russell, 17, died at the quarry, near Malvern, on 6 July and 22-year-old Mr Juzenas, died on 12 July.
A Royal Society for the Prevention of Accidents (RoSPA) made the safety recommendations in a report in January.
It said the quarry did not need to be drained or filled in, despite a campaign calling for its closure.
Director Stephen Bound said: "We're confident that what we've done will prevent people from swimming here and is getting the message out that it is dangerous."