Worcestershire trading standards budget cuts 'risk safety'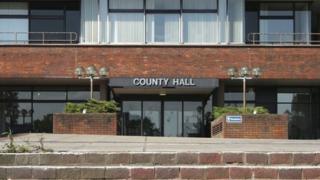 Unions have raised fears people will suffer if more cuts are made to Worcestershire County Council's trading standards department.
The department's budget has been cut by £800,000 to £1m and a proposal to cut it further to £250,000 has been lodged.
A Unison spokesman said consumer safety will be put at risk under the cuts.
The council has approved £29.6m of cuts to its overall budget for this year and has said it needs to save £80m over the next three years.
Rogue traders
Laney Walsh, from Unison's Redditch and Bromsgrove branch, said the trading standards department plays a vital role in protecting consumer safety and markets.
"[Trading standards] cover such a wide area of consumer safety, protecting people from scams, internet crime, rogue traders, people who prey on the elderly and vulnerable in our society, food safety legislation," she said.
With cuts, the service will become reactive rather than proactive, meaning someone could suffer before the department gets involved, she added.
A spokesperson for the Conservative-led council said it has less money and has to find new ways to provide services.
"For 2014/15, the council has agreed a contribution of just over £1m of funding and is talking with partners and Worcestershire Regulatory Services about future years including understanding what service is needed in the future," he said.