Traders plan Hereford Buttermarket bid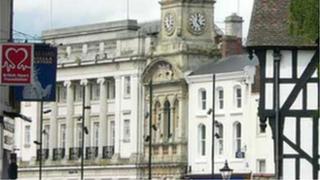 Market traders could take over the running of Hereford's Buttermarket.
The 19th Century building, owned by Herefordshire Council, is home to about 55 traders.
Earlier this week the local authority called for developers and other organisations interested in redeveloping it to come forward.
Steve Dixon, chairman of the traders' association, said stallholders were planning to put together their own bid to protect the Buttermarket's future.
"We're setting up a group and we are putting together the expression of interest for a CIC, a Community Interest Company," he said.
"All the profits would be ploughed back into the community. This way we can lease it from the council and the council will still retain ownership."
Mr Dixon said the traders' CIC would be able to apply for grants currently not open to the local authority.
"About five years this has been running and we've had various development companies looking at us, but the same problem has occurred each time, that the amount of investment needed makes it very difficult for them to make a profit," he added.
Last year, Herefordshire Council put forward plans to transfer its ownership as part of savings measures.