Evesham traders start loyalty card scheme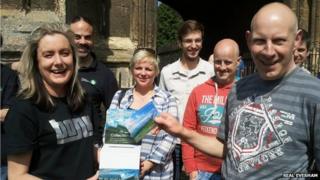 Traders who claim their profits were hit by the closure of a main bridge into their town have started a loyalty card scheme to boost business.
Abbey Bridge in Evesham, Worcestershire, was shut for six months because of delays to work to replace it caused by bad weather.
The traders association, Real Evesham, said shops had lost thousands of pounds during the closure.
It said 80 independent businesses were taking part in the loyalty card scheme.
Customers who collect 10 stamps by shopping in the town will be entered into a cash prize draw at the end of every month, it said.
Butcher Dave Purser from Real Evesham said: "This is about restoring local pride, getting people to shop locally and invest in the town's economy.
"We think it will attract people from outside who may have stopped coming to Evesham when the bridge was shut. It shows them we're very much open for business."
Mr Purser said a donation would be made by Real Evesham to the town's Bell Tower appeal with every completed loyalty card.