Colostomy bag bikini photograph seen by nine million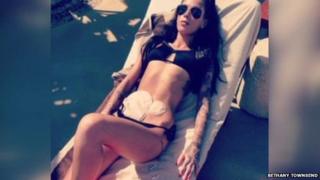 A photograph of woman with Crohn's disease wearing a bikini, revealing her colostomy bags, has been seen by more than nine million people online, a charity has said.
Bethany Townsend, from Worcester, has had the disease since she was three.
The 23-year-old former model was on holiday in Mexico last December when she decided to wear a bikini.
She sent the picture to Crohn's and Colitis UK, who posted it on their Facebook page.
Ms Townsend said: "I didn't expect this kind of reaction at all.
"The photo has been seen by millions of people and it's had nearly 210,000 likes and over 10,000 comments on Facebook - it's gone viral, it's just gone ballistic.
"When I first had the bags fitted I was devastated - the reaction to this photo has really helped me accept them."
The chief executive of the charity, David Barker, said: "The feedback we've had had been really encouraging and people are really drawing strength from it.
"We need greater understanding, greater awareness and a higher profile for these conditions, and Bethany is helping us to do that."
Crohn's disease is a condition that causes inflammation of the digestive system, affecting the sufferer's ability to digest food, absorb nutrients and eliminate waste.