Gullet Quarry swimmers 'will be prosecuted'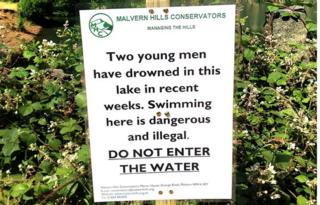 Swimmers at an abandoned quarry in which two young men drowned last year will be prosecuted, police have warned.
People have already been spotted in the water at Gullet Quarry on the Malvern Hills, Worcestershire, despite clear warning signs and a fence.
Officers have been looking into legal powers to deter others since the deaths of Russell O'Neill, 17, and Justas Juzenas, 22, last July.
They now plan to enforce a by-law dating back to the 19th Century.
It states: "No person shall bathe in any pond, lake or stream on the Hills where bathing has been prohibited by notice conspicuously displayed."
The Malvern Hills Conservators, who look after the area, have no powers of arrest, but have warned that when they see people swimming in the quarry they will call the police.
They have already spent £10,000 erecting fences over the winter to deter swimmers.
'Tougher line'
A Malvern police spokesman said: "If you're swimming in Gullet Quarry, you may want to spend your afternoon having a dip, but we don't want to spend ours searching for your body."
Conservators' director, Steven Bound, said they would take a tougher line than previously: "We are determined to get the message home."
A West Midlands Ambulance Service spokesman said: "The water, which looks inviting, may conceal old machinery and sharp objects left behind after a mining operation closes.
"Even expert swimmers will encounter trouble in the dangerous and deceptively cold waters."
The Royal Society for the Prevention of Accidents said draining the pond was not possible.