Briton held in Australia Rebels biker gang drugs inquiry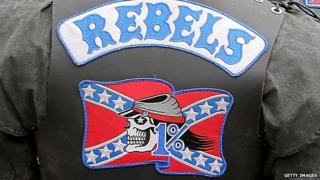 A British man and four members of the Australia Rebels Motorcycle Club have been arrested over an alleged plot to import drugs worth an estimated £11m (A$20m) into Australia.
The 27-year-old, from Kidderminster, was held in Liverpool as five others were arrested in Tasmania and Queensland.
They are accused of offences including trafficking and money laundering.
West Mercia Police said it involved the alleged importation of amphetamines.
'Illicit drugs'
The force said it worked with the Australian Crime Commission (ACC), which co-ordinated the operation, and other Australian police forces.
Richard Grant, from ACC, said the syndicate was allegedly operating in Australia and internationally.
"The investigation indicated the men were planning to import two packages of illicit drugs through an international parcel courier service," he said.
Officials intercepted two packages sent from the UK which contained about 4kg (8.8lbs) of amphetamines. Two further packages totalling another 4kg (8.8lbs) were later intercepted in Queensland.
Police later arrested a 27-year-old Tasmanian man living in Queensland, who is alleged to be a member of the Rebels, and another man in Queensland.
The searches also led to the arrest of three men in Tasmania, including a 26-year-old member of the Rebels, police said.
The men arrested in Australia were all due to appear before local magistrates courts, facing charges including trafficking and importation of an illicit drug, and money laundering.
The man from Kidderminster is accused of conspiracy to supply controlled drugs and conspiracy to fraudulently evade export restrictions, a force spokesman said.
He was later released on police bail.