Herefordshire Council joins winding-up petition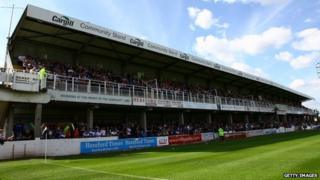 Herefordshire Council is to add its name to a court petition calling for Hereford United to be wound up.
The club was thrown out of the Football Conference in June over unpaid debts.
Earlier this month, a winding-up order was adjourned at a hearing in the High Court in London, after the main claimant was paid.
The council said it had not previously pursued payment of about £65,000 in debts as there were small firms relying on a settlement.
The local authority, which owns the Edgar Street ground, is owed the money for rent, rates and legal fees.
'Fabric of city'
It said it would be prepared to defer payment for a period of time if it were able to take over responsibility for the redevelopment of the ground and ends.
"It's always been the council's intention to pursue the money that's owed to us," council leader Tony Johnson said.
"One of the things that's bothered us greatly is we do want to see the continuation of football at Edgar Street and we didn't want to do anything to jeopardise that.
"It's part of the fabric of the city."
However, Mr Johnson said some taxpayers had interpreted the council's position as a lack of action.
The authority said it had decided to join HM Revenue & Customs on the winding-up petition when it returns to the High Court next month.