Worcestershire radiotherapy unit building work finished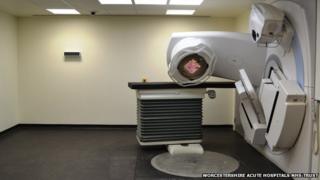 Patients will start treatment at Worcestershire's first radiotherapy therapy centre in January after the completion of building work.
The £23m unit is on the site of Worcestershire Royal Hospital.
Cancer patients in the county currently have to go to Wolverhampton, Cheltenham or Coventry for radiotherapy.
Adel Makar, from Worcestershire Acute Hospitals NHS Trust, said: "From diagnosis onwards patients will now get all their treatment under one roof."
He added: "It's currently a very fragmented service for patients who are treated in different parts of the country and have to endure long journeys as do their families.
"This will save patients an overall estimated 1m miles of travel every year."
The centre has three linear accelerator machines, which deliver the radiotherapy treatment.
The unit, which took about 18 months to build, has been paid for by a grant from the Department of Health.