Hereford Islamic 'harmony centre' causes car parking row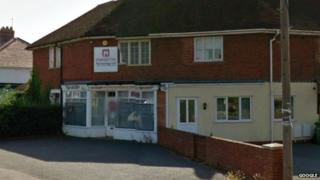 A row over car parking has erupted over a centre in Hereford which is designed to "promote religious harmony".
The Hereford Islamic Society wants to convert a shop in Putson, South Wye.
Neighbours claim the site is not suitable and could become "overcrowded" because of limited parking space and access.
The society said it believes parking would not be a problem and has altered its proposals so the site can accommodate 11 cars.
It has told Herefordshire Council the new centre would provide a place for prayer, religious services and community activities and its busiest times would be limited to Friday prayers, between 13:00 and 14:00 GMT.
Building 'not suitable'
A public meeting will be held later about the planning application for the Holme Lacy Road property.
Tracey Rock, who lives in an adjoining street, said: "It'll be overcrowded, it's just not a suitable area for a day centre to be in."
Another resident, Don Allan, said: "They're going to be praying there from seven in the morning until 11 at night and we don't really want that.
"It's nothing to do with race or anything like that, just the volume of traffic."
He said one of the society members behind the application has lived in the road for about 10 years.
Herefordshire Council is currently considering the application and has received a petition from residents.