Alvechurch night time rail work noise 'unbearable'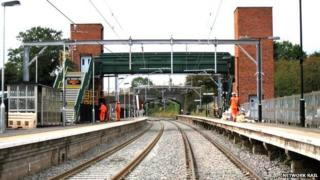 Overnight work to improve the track on a stretch of Worcestershire railway is causing "unbearable" noise, one resident has claimed.
The line at Alvechurch, which runs between Redditch and Birmingham, was closed for eight weeks.
It has reopened during daytime while scheduled work continues at night.
Nearly 3km (1.9 miles) of track has been added to the line and a new platform and footbridge built at Alvechurch station.
Kevin Baker, whose house backs on to the track, said he has high blood pressure which has been made worse by being kept awake.
"It's a total lottery when it comes to getting any sleep," he said.
"There is a continual disruption."
Richard Dugdale, of Network Rail, said work to tamp down the new track had to be done at night to allow the route to be in operation during the day.
"While [the night time noise is] unfortunate, I am confident - when complete - the scheme will bring lots of benefits when it kicks in from December."