World War One: Hereford woman's journey to France to nurse soldier son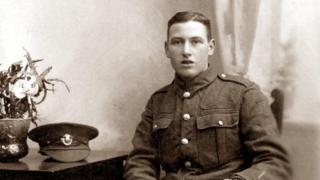 In July 1917, a young mother left her week-old baby in the care of her neighbour to embark on a daunting journey, first to London and then to France to nurse her sick soldier son who had been gassed on the World War One battlefield.
Margaret Elizabeth Francis had never left the parish of Newton St Margarets in Herefordshire, for even a day.
She had never been to London before, let alone to another country and it was especially challenging since she was travelling alone and had to cover the first 20 miles on foot.
Her son Reginald was serving in the Shropshire Light Infantry when he was left in a coma by the gas attack, possibly perpetrated in error by the British.
Fearing he would not survive, the YMCA charity paid for Mrs Francis to travel to France to see him.
'Just you wait'
Relatives describe her as a "stern, but wonderful lady" and recall being told Reginald came round only to be scolded by his mother who said: "Just you wait m'lad till I get you home".
"Family legend has it that when my grandfather woke up from his coma, he spotted his mother and feigned sleep thinking she had come to sort him out for running off to the war without her permission in the first place," Reginald's grandson Chris Francis said.
Jean Jones, Reginald's daughter, said her father thought he was dreaming when he realised his mother was at his bedside.
"The look she gave him was worse than [anything he saw in World War One], he always used to say that," she said.
In reality, he was no doubt grateful to see her, said Mr Francis, especially after comprehending the journey she undertook to reach him.
"My understanding is that she left her young daughter with a neighbour, walked to Hereford, caught the train, must've gone to London, must've crossed London I presume to get to another station, down to one of the channel ports, across to Boulogne is my understanding and then picked up by a YMCA driver and taken to see granddad I think at Etaples, which is just south of Boulogne," he said.
"It would have been a rural existence and they wouldn't have gone far.
"Certainly going to Hereford would have been a major event and getting on a train and going to London and then to France would just be unbelievable."
Mrs Francis went on to spend six weeks in Etaples, just south of Boulogne, nursing Reginald back to health before returning to her family and newborn daughter in the rural surroundings of Newton St Margarets.
'Her duty'
Her granddaughter, Jean Jones, said once she was alerted to her son's welfare she saw it as her duty.
"The baby she had she lent to a neighbour to look after, because the neighbour had just had a baby so she breastfed them both," she said.
"She got out of child birth to go to work.
"But she took it for granted. It was her duty to go to him.
"She had the chance and she was going to go, because nobody could nurse her boy back to health and she was going to bring him back home.
Mr Francis, who has researched what happened to his grandfather, said he did not go into too much detail about being in France.
"Grandfather had been gassed, [but] now I've subsequently found out it was probably by his own side," he said.
"Looking at regimental histories of the King Shropshire Light Infantry, there's a mention of two soldiers being gassed by their own side and the timings and everything would seem to be about right for that in 1917.
'Unknown situation'
"If soldiers were thought to be in danger of dying, then the YMCA would pay to have relatives to come out to visit them or nurse them or whatever.
"The Red Cross also did this, but only with officers.
"It takes some bottle I think to get up and go to a completely unknown situation where her son is lying in a hospital bed in France and Lord knows what she is expecting to find when she gets there because they only got people out if they thought people were going to die."
Reginald however, recovered and continued fighting - only coming home at the end of the war.
He returned to Newton St Margarets and in 1972, when he died aged 74, was buried in the same local church his mother was laid to rest in.
"He always said that there's nobody like gran - or his mum," Mrs Jones added.
"He said he felt secure when she was about."