Overbury school excavated skeletons are confirmed as Roman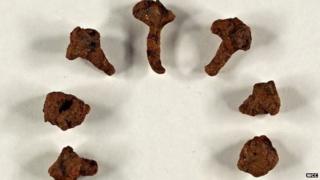 Skeletons found at Overbury primary school in Worcestershire have been confirmed to be Roman.
The county archaeology service ascertained the remains, dug up during building work, are those of an adult female and a younger adult male.
The woman was found with hobnails, common in agricultural Roman burials.
The man was buried with his head placed alongside his legs, which was not unusual in Roman times, archaeologists said, although the reason is unknown.
Archaeologist Tom Vaughan said the hobnails indicated the woman had a physically demanding rural lifestyle.
"The excavations, including the finds of hobnails with the adult female are typical of Roman interments in the area and similar to recent excavations near Wyre Piddle and St John's in Worcester.
"It is well known that there was Roman occupation around Bredon Hill.
"This discovery seems to support evidence that during Roman times there were small farmsteads in Worcestershire, owned or run by a family."