Council chairman Olwyn Barnett dies after cancer battle, aged 79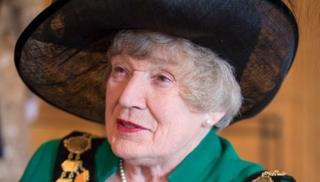 The chairman of Herefordshire Council has died after battling cancer for several years.
A grandmother-of-eight, Olwyn Barnett served as a councillor for the Mortimer ward more than 34 years. She had been chairman of the authority since 2011.
The 79-year-old widow, whose son died of cancer last year, died on Thursday.
Her daughter Caroline described her mother as a very strong-minded person who committed her life to council work and "said it how it was".
"She did a lot for the area and always put everyone else before her," she said.
Mrs Barnett, from Kinsham in Presteigne, Powys, was a founder member of St Michael's Hospice.
She established the Herefordshire Diamond County Awards in 2012, to celebrate local businesses' commitment to helping communities.
A council statement said Mrs Barnett had been a dedicated supporter and fundraiser.
"Our heartfelt condolences are with her family, friends and colleagues at this time," it said.