New Bishop of Hereford inaugurated at cathedral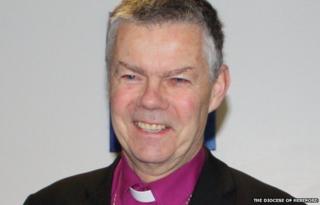 The new Bishop of Hereford has been officially inaugurated in a service at the city's cathedral.
The Right Reverend Richard Frith, previously Bishop of Hull, takes over from Anthony Priddis, who announced his retirement last year.
Bishop Richard was officially presented to the Dean of Hereford Cathedral by the Archbishop of York John Sentamu.
He was then anointed by two bishops from Tanzania, whose dioceses are twinned with that of Hereford.
The congregation included clergy and representatives from almost every part of the diocese, which includes south Shropshire.
The 105th Bishop of Hereford also swore the Oath of Fidelity on the Hereford Gospels, which date back to the 8th Century.