Hereford's High Town set for £2.5m investment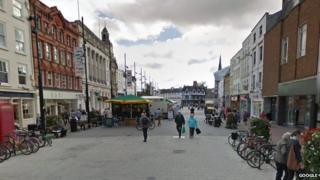 More than £2.5m is to be invested in Hereford in a bid to boost the local economy.
The funding, from Herefordshire Council, will be used to redevelop streets and pedestrian areas in High Town.
Statues and the Old House museum will also see work over the summer.
Caroline Preedy, who runs a gift shop in High Town, said the area urgently needed a "facelift" and bringing into the "21st Century".
Councillor Paul Rone, in charge of roads and transport, said: "We need to do this, we need to have a vibrant city centre and a smart welcome in the city centre
"Empty shops, empty pubs, empty buildings are not good for the town and by investing this money, and making it a lot more welcoming, hopefully people who are looking to invest or open a shop will think it's worth the risk."
Herefordshire Council said it was also working with private landlords to improve the appearance of other buildings in the area.