Herefordshire Regiment's Gallipoli medals sought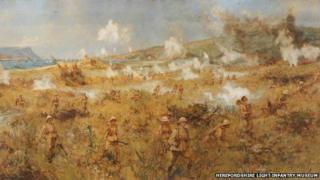 A museum is searching for the medals and stories of soldiers who took part in a gruelling battle nearly 100 years ago.
Hundreds of Herefordshire Battalion soldiers took part in the Suvla Bay landing in Gallipoli in August 1915.
Herefordshire Light Infantry Museum curator Colonel Andy Taylor said they "suffered casualties immediately" and faced water shortages and extreme heat.
The museum hopes to trace 100 1914-15 Star medals to mark the centenary.
Col Taylor said all soldiers in the regiment who served in Gallipoli were awarded the star-shaped bronze medal, which is inscribed with the soldier's name, rank and number, as well as "Hereford R" to represent their regiment.
During the campaign, the battalion lost 80 men and more than 800 were evacuated with wounds or illness.
Col Taylor said: "I think that it is a very important part of history and very important for the county of Herefordshire."
He said many of the regiment's 2,000 men were aged under 20 and had known each other before the war.
"There was a real feeling of camaraderie and that stayed with them and sustained them during their fighting," he said.
He said conditions were very difficult as they arrived on the "remote peninsular" during the Mediterranean summer.
"It was very hot, it was dusty, the ground was broken, the ground was covered in vicious thorn gorse and they were under Turkish sniper and artillery fire as soon as they landed and suffered casualties immediately," he said.
"And through all of this the over-riding problem was the shortage of water and many men fell casualty to snipers when they went to wells."
The museum wants to display the medals to mark the centenary of the Suvla Bay landing in August. Anyone who can help is asked to contact the museum at Suvla Barracks, Harold St, Hereford.