Football club sought for Hereford United's Edgar Street ground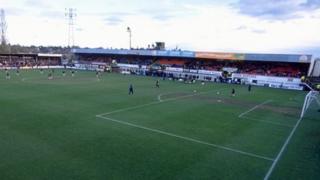 A football club is being sought to play at Hereford United's former Edgar Street home, after the Bulls were wound up last year.
Herefordshire Council said expressions of interest would be sought for a proposed two-year lease from 1 March.
Hereford United Supporters Trust (HUST) said it was "disappointing" there was only a two-year lease offered.
The ground has been unused since United played their final Southern League game there in early December.
Hereford FC - a newly-formed Phoenix club - hopes to play out of Edgar Street next season, possibly two levels down in the Midland Football League.
'Needs TLC'
HUST vice chairman Martin Watson said: "Obviously the new club is going to make enquiries about the stadium.
"(The lease) could do with being a lot longer because of the money that needs spending on it to improve the ground.
"We need to see what state the ground is in. It does need TLC. It's an old ground - we all know it."
Hereford United Football Club (1939) Limited was wound up by the High Court on 19 December.
The winding-up petition was brought by HM Revenue and Customs, which is thought to be owed £116,000.
The council said it wanted to ensure there was football next season at the ground, which it owns, but an application to the Football Association to play at the ground would need to be in place ahead of 1 March.
Council leader Tony Johnson said: "Once we have tenants in at Edgar Street and football continuing, cabinet will consider longer term arrangements in the autumn."