Roy Harper trial: Woman 'watched abuser in concert'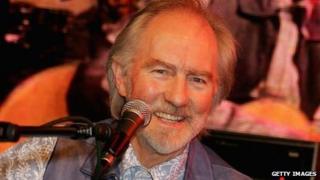 A woman who accused singer Roy Harper of sexually assaulting her as a child told a court she attended one of his gigs to "exorcise" what happened.
Worcester Crown Court was told the folk rock star abused her in the 1970s and indecently assaulted another girl.
The woman told the jury she was about 16 when she "remembered" being abused repeatedly around five years earlier.
Mr Harper, 73, of Rossmore, near Clonakilty, County Cork, Ireland, denies 10 charges.
The sexual offences are alleged to have occurred in Herefordshire in the mid-1970s and 1980.
'Needed to see him'
During cross-examination by defence QC Adrian Waterman, the woman was asked about diaries she wrote in the early 1980s.
The woman, who cannot be named, was asked about a diary entry describing a meeting with Mr Harper when she was aged about 17.
She recorded in her diary it had been "ace" to see him.
Asked to explain why she had chosen to write nothing in the diaries relating to her recollections of the alleged abuse, the woman said: "That hadn't happened to me at the time, it had happened to me years before.
"I obviously wasn't ready to talk about things like that in my diary."
Rejecting Mr Waterman's assertion the abuse never happened, the woman said: "I always wanted to exorcise it, to get it out.
"I needed to go to see him and see if that would help with what had happened."
Mr Waterman also asked the woman why she had written that it had been "ace" to see Mr Harper during a visit to his home, at a time when she claimed to have thought about the alleged abuse every day.
The woman answered: "It was probably nice to see him.
"I had mixed feelings - when you have been abused you almost want to go back and see the abuser."
The prosecution alleges Mr Harper committed the offences against her and the other complainant who claims to have been indecently assaulted when she was 16.
The trial was adjourned until Monday.