Worcestershire Acute Hospitals Trust 'sees deficit double'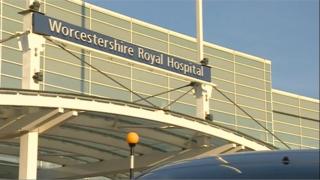 The predicted budget deficit has nearly doubled for this financial year at a trust running Worcestershire hospitals.
A deficit of £27.6m has been forecast, compared to £15m previously, a report presented to a Worcestershire Acute Hospitals NHS Trust board meeting said.
The report said the position had worsened partly due to "operational pressures" affecting staffing costs.
The trust runs Worcestershire Royal Hospital, Kidderminster Hospital and Alexandra Hospital in Redditch
It blamed an increase in elderly patients, increased attendance at A&E and bed-blocking.