Barrier tests one year on from Worcester floods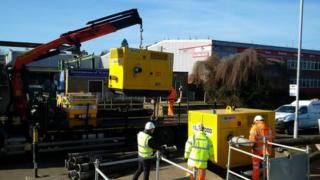 Flood barrier tests have been carried out in Worcester, a year after floodwater threatened to overcome defences.
Teams from the Environment Agency, Severn Trent and the county council shut off Hylton Road, by the River Severn, to test arrangements.
Severn Trent said it had increased the size of its pipework in the road so that bigger pumps could be used to move floodwater back into the river.
Essential maintenance was also being carried out.
Flood barriers were placed across Hylton Road and road levels were checked to make sure the ground had not moved since previous tests were carried out.
The Environment Agency said that residents should not be worried and that the defences were "ready for action when needed".
Last February, the River Severn was threatening to rise to 5.8m with the flood defences built to withstand levels of 5.7m (18ft 8in).