Stranger rewards 'life-saving' Worcestershire children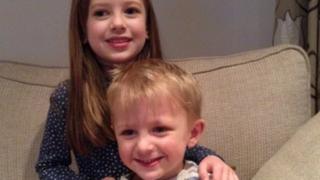 A man has sent a reward to two children who saved their mother's life when she went into a diabetic coma after he was moved by their "outstanding behaviour".
Trina Hinton's daughter Libby, six, and son Archie, four, called for help when she collapsed last Thursday.
Retired Lt Col Norman West praised the pair's "brilliant" actions and sent the family £100 in gift vouchers.
Ms Hinton said it was "wonderful" for her children to be recognised by a stranger.
Mr West, from Reading, said he had contacted the family after hearing their story on the news.
'Excellent children'
He said the gift had been inspired by his "darling wife" Dorothy, who died last year.
"She absolutely adored not only our children but our grandchildren too," he said.
"So it's in her honour, and because I appreciate hearing about children doing something to be patted on the back for."
Mr West also praised Ms Hinton for bringing up "such excellent children".
"With all the doom and gloom in the world this was a wonderful incident which cheered me up no end," he said.
Ms Hinton, 43, said both children were "very happy" to learn they would each receive a £25 gift card while their mother would get a £50 voucher from Mr West.
"They've already made a list of what they're going to spend it on," she said.
"I know I'll spend mine on the kids, too."
Libby and Archie rushed to the aid of their mother, a type 1 diabetic, when she collapsed at her home in Alfrick, Worcestershire.
Ms Hinton said she would probably not be alive if six-year-old Libby had not contacted her granddad, who then called paramedics.