Worcestershire County Council agrees £24m budget cut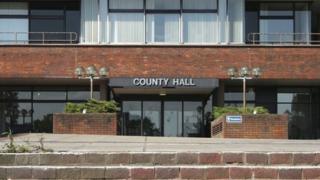 Nearly £24m of cuts have been approved by Worcestershire City Council for 2015-16.
At a meeting earlier, the Conservative-led authority also agreed a council tax rise of almost 2%.
Council leader Adrian Hardman said it was a budget "fashioned in Worcestershire, rather than Whitehall".
But opposition Labour leader Peter McDonald said the plans, which were eventually agreed by 35 votes to 19, were "uncaring, unfair and brutal".
The 2% council tax rise means the county council's share for band D properties will increase from £1,059 to £1,079.
Of the £23.8m being cut, £12.6m will come from adult services and health while £6m will come from business, environment and community, which includes libraries.
An extra £4.2m and £500,000 are being added to children's services and highways budgets respectively.