Boy sentenced for school knife attack in Malvern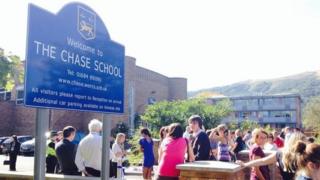 A 13-year-old boy who attacked a teacher with a knife has been sentenced for malicious wounding, actual bodily harm and possession of knives in a public place.
The boy, who cannot be named because of his age, was a pupil at the Chase Technology College in Malvern where the incident happened last September.
He had admitted the charges at Worcester Youth Court.
He was given a 12-month referral order which includes anger management.
An exclusion period around the site of the incident and a three-month curfew from 22:00 to 07:00 were also imposed.
Following the attack, the boy went missing, sparking a police search until he was traced to a train bound for Hereford.
He was arrested by police at Ledbury station where it was discovered he had "several long-bladed knives" in his bag.
The teacher who was attacked suffered a minor injury and a 13-year-old girl was also slightly injured - which the court accepted "was an accident".
The referral order specified the teenager would be given training in problem solving, consequential thinking, victim impact and empathy.