Hereford wheelchair user says bus driver refused to let her on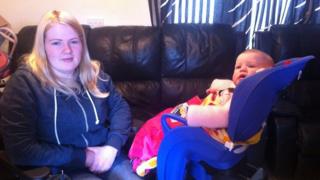 A bus company has said it is taking "very seriously" claims a driver refused to pick up a wheelchair user.
Sam Hemme, who has the muscle condition dystonia, said she was left "upset" and "embarrassed" after being refused access to a bus in Hereford.
The 21-year-old said the driver told her she needed a certificate proving her wheelchair weighed less than 300kg (660lbs).
First Hereford Bus Company said it had launched a "full investigation".
Ms Hemme uses a wheelchair that has a specially adapted safety seat to carry her 11-month-old baby.
'Drivers rang boss'
Her mother, Christine Bonsall, who was with her when the incident happened on Saturday, had asked the driver for help pulling out the ramps allowing wheelchairs on to the bus.
"He said 'you're not getting on unless you have a certificate saying you are under 300kg'," she said.
She said that after an argument, the driver, who refused to give his name, drove off.
Ms Hemme said: "I was upset with the embarrassment - other bus drivers came and helped me and when I explained [what had happened] they rang their boss straight away."
She completed her journey on a later bus.
In a statement, the bus company said it seemed the driver did not deliver "anywhere near the standard of customer service or assistance that we would expect from our staff".