Worcester Cathedral rare books moved using scaffolding tower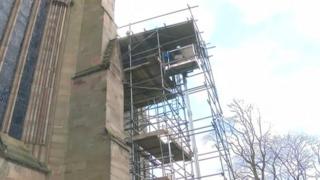 About 6,000 rare books, some more than 500 years old, are being moved from a cathedral library so that a leaking roof can be repaired.
The staircase to the library in Worcester Cathedral is too narrow for the protective boxes containing the books to be carried down.
Scaffolding has been put up to allow removal specialists to clear the books.
The Rev Canon Dr Alvyn Pettersen said the books were precious for scholars around the world and residents.
The restoration work is being paid for from a £250,000 grant from the government's First World War Centenary Cathedral Repairs Fund.
It has taken the team about two months to pack hundreds of protective boxes containing the books. The work is expected to take four months.