Tiddesley Wood's old orchard to get 100 new plum trees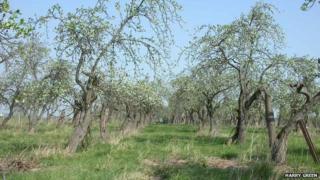 An orchard dating back to the 19th Century is to be extended with 100 new plum trees.
Tiddesley Wood's orchard is the remnant of a thriving fruit-growing and market gardening industry that developed in Worcestershire in the 19th Century.
It is home to a colony of the rare noble chafer beetle, which are only found in three areas in the UK.
The Tiddesley Wood nature reserve, near Pershore, is looked after by the Worcestershire Wildlife Trust.
Rob Allen, conservation officer for the trust, said: "Many orchards in this area have been grubbed out so it's really important that we've got the chance to increase its size and maintain this habitat for many years to come."
A grant of almost £3,000 from the Lafarge Tarmac Landfill Communities Fund covered the cost of purchasing 100 plum trees and tree guards.
The trees will be planted by volunteers on Tuesday.