Police sorry for saying David Chatfield was drug dealer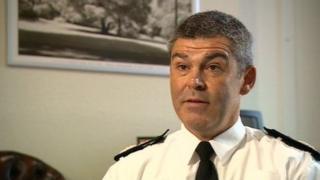 A grandfather has received compensation and an apology from police who wrongly told neighbours he was a drug dealer.
Officers also raided David Chatfield's house in Hereford and falsely accused him of illegally owning a gun.
West Mercia Police has admitted Mr Chatfield had never been suspected of drugs offences, and information given to neighbours regarding his arrest in 2011 was "incorrect".
No further action was taken against Mr Chatfield.
The confusion arose when police seized what they suspected was an unlicensed firearm from Mr Chatfield's home.
Subsequent checks revealed the gun was legitimately held and Mr Chatfield had the necessary documentation.
'Marched out'
Neighbours who witnessed the raid were told by a Police Community Support Officer (PCSO) that the search was for drugs and Mr Chatfield was a drug dealer.
Mr Chatfield said he was "marched out to a police car" in front of his neighbours, wife and grandchildren, leaving him feeling "violated, humiliated and shocked" - especially because neighbours on his road believed he was being taken away for dealing drugs.
Chief Constable David Shaw, said he took "responsibility for the actions of all officers and staff" and acknowledged Mr Chatfield had done nothing wrong.
The PSCO has been subject to a force investigation and "lessons had been learned", according to a spokeswoman.
A "significant" out of court settlement was agreed with Mr Chatfield, his lawyer said.