Worcester aerial walkway plans revealed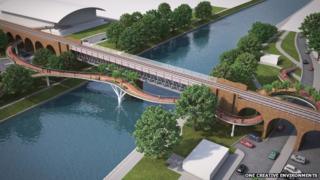 A 1,000m raised walkway planned for Worcester could help keep the city open during floods, developers say.
The Worcester Green Skywalk would link The Hive library, the racecourse, Foregate Street Station and shopping areas with the university.
Inspired by New York's High Line aerial park, designers said it would include the world's longest "green wall", featuring a variety of plants.
A feasibility study has been carried out and consultation opens on Thursday.
An exhibition opens in the city's guildhall later in the month.
Worcester Green Skywalk
The walkway would run 5.5m above the ground for much of the 1,000m-long route
Early construction work would see a 360m-long "living wall" of plants
The Skywalk is designed to improve access into and through Worcester, including keeping the city open during flooding
Mark Martin, from One Creative Environments Ltd, said funding had yet to be secured but hoped the first phase of construction could start as early as the autumn, with the Skywalk opening to the public within three years.
Plans include crossing the River Severn alongside the existing rail line and converting part of a redundant viaduct for pedestrian use.
Mr Martin said the Skywalk was expected to open up new areas of the city for redevelopment and provide another route into Worcester in the case of major flooding.
Local MP Robin Walker said he welcomed the initial designs and the contribution it could make to "flood resilience".