Hereford NMITE college 'will create 500 jobs'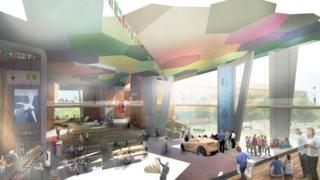 A new college earmarked for Hereford would create more than 500 new jobs, developers say.
The New Model in Technology and Engineering (NMITE) will specialise in manufacturing, defence engineering and agri-technology.
It is expected to be based across the city, using mainly existing buildings.
The institution still requires government approval, but bosses hope it will open in September 2017, catering for up to 5,000 students.
Under the plans, accommodation will be in colleges, again located around the city.
'Missing generation'
As well as about 500 teaching posts, there would be many other jobs created, NMITE said.
Plans are due to go on show on Thursday, although the site of a central campus has yet to be confirmed.
The proposals include setting up a business-focused facility in Rotherwas.
Herefordshire is one of only a handful of counties in England without a university and a spokesperson for NMITE said its plans would help the area retain a "missing generation", as well as boosting the local economy.
It said about 1,800 young people left the county every year to study in higher education, with 60% of them not choosing to return after their degrees.
The college said a ready supply of skilled graduates would benefit businesses in the city.