Worcestershire Wildlife Trust hopes to preserve Blackhouse Wood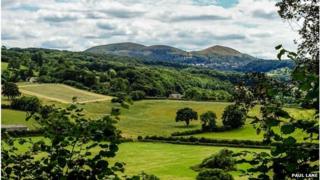 A charity has said it needs to raise £200,000 to save a wood it says could be one of the most "ecologically valuable" in Worcestershire.
The Worcestershire Wildlife Trust says it is hoping to restore Blackhouse Wood, a 38.5-hectare area near Alfrick, which was partly cleared in the 1960s.
It said it has so far raised £60,000 but needs to raise the rest of the money by August.
It said the woodland could be a "wildlife haven".
'Oasis for wildlife'
Colin Raven, the trust's director, said: "Blackhouse Wood has had a mixed past and the current owner has made a good start on the long process of restoration.
"However, for it to fulfil its true wildlife potential, it now urgently needs a new owner able to secure its future recovery as a wildlife-rich woodland."
The trust said it had already paid half of the £400,000 cost of the woodland and had negotiated a 12-month period to raise the remaining £200,000.
Mr Raven added: "We're hoping to raise the remaining £200,000 from individual donations and grants.
"But raising more than £60,000 in such a short space of time is fantastic."
Blackhouse Wood sits next to the Crews Hill nature reserve, which is run by the trust.
In the 1960s many of the wood's native trees were cleared to make way for fast-growing conifers and it was managed as a commercial forestry plantation.
The trust hopes to remove the non-native trees, replacing them with oaks and field maples.
It also hopes to encourage dormice populations.
It said: "Old hornbeam and veteran lime stools will be coppiced to extend their lives even further.
"Pathways and glades will be widened and created to ensure that enough light can reach the woodland floor so that plants can grow to support butterflies, bees and other insects.
"Along with Crews Hill, Blackhouse Wood will provide an oasis for wildlife and people alike."