UKIP Kidderminster office vandalised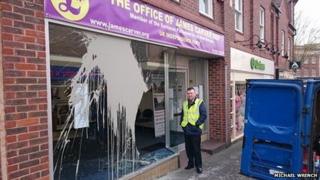 UKIP's office in Kidderminster has been vandalised in what a local MEP described as a "politically motivated attack".
West Mercia Police said paint had been thrown over the front of the building on Coventry Street.
The front window was also smashed in the attack, believed to have taken place in the early hours of Saturday morning.
The office serves the constituency office for UKIP MEP Jim Carver.
He said there was good CCTV footage of the incident and that was now with the police.
"The paint suggests there's some intent, it's not just someone lashing out," he said.
Officers have called for anyone with information to come forward.