Two 'corridor' cardiac arrests at pressure-hit Worcestershire Royal Hospital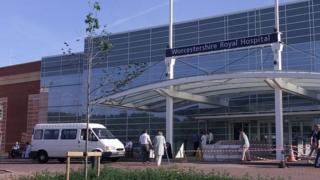 Two patients had cardiac arrests while waiting on trolleys at Worcestershire Royal Hospital, the BBC has learned.
West Midlands Ambulance Service said both incidents were in the past week.
They came during a period of intense pressure on services at the hospital and follow an episode in February when 28 patients queued to access the emergency department, it added.
The hospital trust said its staff are committed to safe and high quality care in often difficult circumstances.
West Midlands Ambulance Service (WMAS) said the two incidents occurred in the same week the hospital saw its busiest day ever, brought on, primarily, through winter pressures.
'Lives at risk'
WMAS claimed a previous incident at the hospital saw another patient on a trolley being rushed to resuscitation after deteriorating.
Patients were also treated in a room reserved for relatives to view loved ones who have died, WMAS confirmed.
In February, it said it had to commit 740 hours of managers' time to caring for patients at the hospital as they were needed to work alongside the Hospital Ambulance Liaison Officer.
On the day when 28 patients were in corridors or ambulances, WMAS had 13 staff and four ambulances tied up outside the hospital's A&E section, it claimed.
WMAS says ambulances becoming stuck outside the hospital could put other lives at risk because of the difficulty of responding to fresh emergencies.
NHS risk summit
The hospital trust did not answer specific questions, but accepted pressure had continued on services. It said a protocol had been developed with the ambulance service for the safe management and assessment of patients, including those that waited in the corridor.
All patients were rapidly assessed on the basis of clinical need and priority, it said.
"We are aware that WMAS has been in discussions with commissioners regarding additional support that they have provided to ensure patient safety in the emergency department," it said.
Campaigners who wish to preserve emergency services at Redditch's Alexandra Hospital, which is run by the same trust, say the situation proves the system would not cope if the proposed downgrade happened.
Under the proposal, emergency care and maternity services could move to Worcestershire Royal Hospital.
An NHS risk summit has been called for Wednesday. This is to minimise the risks at the trust following the resignation of five A&E consultants at Alexandra Hospital, some of whom wrote "massive overcrowding" was a disgrace and caused "serious harm" to many patients.