Worcestershire A&E concerns lead to surprise inspections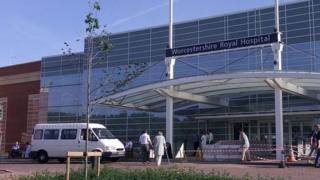 Surprise inspections have taken place at two hospitals in Worcestershire, prompted by concerns about their accident and emergency departments.
The Care Quality Commission (CQC) said inspectors visited Worcester Royal and Princess Alexandra hospital, in Redditch, on Tuesday evening.
Four Redditch consultants resigned last month and patients in Worcester have queued in corridors for A&E treatment.
The health watchdog said its findings would be published in due course.
'No longer wait'
The inspections come as Worcestershire Acute Hospitals NHS Trust, which runs both hospitals, revealed plans to increase the number of cubicles in the emergency department at Worcester.
The work, which will be carried out in the next three weeks, will see 30 cubicles set up, compared to the current 18.
"The aim is to improve the quality of care patients receive in the department, by reducing the number of patients treated in the corridor," said Stewart Messer, the trust's chief operating officer.
There are still a number of patients who are unable to be discharged into a more appropriate setting "but it has become very clear that we can no longer wait for the required response to reduce these delayed transfers of care," he added.
The corridor will only be used "at times of extreme pressure".
The trust said a new urgent care centre would also be set up opposite the hospital over the summer.