Bromyard Downs conservation project given £165,000 lottery grant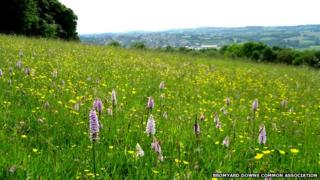 An organisation looking after ancient common land has won a £165,550 of lottery grant to help preserve the habitat's rare species.
The Bromyard Downs in Herefordshire are home to a rare bullfinch and the viviparous lizard.
The 114 hectares of common land is looked after by the Bromyard Downs Common Association.
Surveys carried out with Herefordshire Wildlife Trust will monitor the condition of habitats and the wildlife.
The association will also train volunteers who will help preserve the Downs for wildlife and people.
The money will also fund archaeological investigations looking for traces of a racecourse that once stood on the land.
A World War Two bunker in Warren Wood, planned to be used by resistance groups in the event of a Nazi invasion, will also be examined.
Common (viviparous) lizard
The term viviparous applies to animals which produce live young developed inside the body of the parent
Lay eggs and give birth to live young
Good swimmers, they dive underwater when threatened
Shed their tails to fool predators
Hibernate from October to March, often in groups
Source: BBC Nature