Vandals smash up memorial garden in Evesham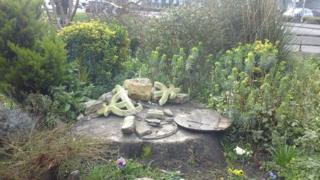 Vandals have smashed irreplaceable stonework and damaged an award-winning memorial garden.
The World War One garden at St Peter Bengeworth, in Evesham, Worcestershire, featured a stone cross and masonry from the original church, which was demolished more than 100 years ago.
Gardener Pat Coombs said she was "extremely angry" by what had happened to the garden.
She said she doubted the stonework could be properly repaired.
Ms Coombs, who is part of the gardening team at the church, was the first person to discover the damage, after the attack on Thursday.
"I couldn't believe my eyes at first and then I found I was extremely angry," she said.
"It [the memorial] looked really impressive but a vandal or vandals had completely destroyed it with bricks."
West Mercia Police said it was investigating the incident.