Hartlebury Castle sold to preservation trust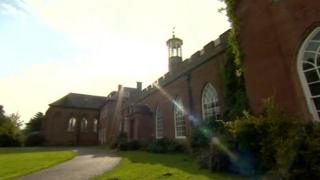 A historic house in Worcestershire has been bought by a preservation trust.
Hartlebury Castle Preservation Trust was awarded a £5m Heritage Lottery Fund grant last year, and raised £2.5m itself.
It had been the home of the Bishop of Worcester for more than 1,000 years until 2007, when the Church of England decided to sell it.
Hartlebury Castle Preservation Trust said the move would secure the future of the building for visitors.
The Grade I-listed building includes 43 acres (17 hectares) of parkland, and houses the county museum and the Hurd Library - a collection of 5,000 books, some dating back to 1476, including more than 40 volumes from the library of Alexander Pope.
The trust said it planned to turn the castle into a major visitor attraction and that restoration work was expected to be completed by 2017.