Leominster dog attack victim calls for owners to be jailed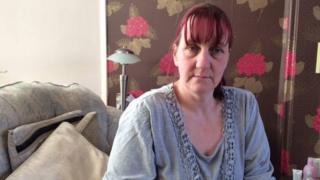 A woman who was left scarred for life after being bitten 65 times in a dog attack has said the owners should have been jailed.
Teresa Stinton was attacked in Leominster, Herefordshire, in June 2014.
Dog owners Kenneth Stutchberry, 27, and his brother Andrew, 22, were given suspended sentences after pleading guilty.
Miss Stinton said she was "heartbroken and disappointed" by the sentences.
"I think they should have got a bit more because they had been warned about their dogs before," she said.
Hereford Crown Court heard police had given the brothers warnings about dogs in 2008, 2009, 2011 and 2012.
Miss Stinton has had five operations since the attack and has ongoing nerve and tendon damage to both legs and her right arm.
"I've got to live the rest of my life being scarred, not looking at my body, not wearing skirts any more because my legs are so bad.
"I didn't see my boy for three months because I was that bad I couldn't look after him," she said.
She was attacked after one of the brothers left the door to their house open.
"All I can remember is seeing blood... and shouting for help. I was very scared - I thought I was going to die and I would never see my kids again," she said.
In March, Kenneth Stutchberry was sentenced to 12 months imprisonment suspended for two years, and Andrew, to nine months imprisonment, suspended for two years.
Both were banned from keeping dogs for life.
Their mother, Davina, 51, of Bridge St, Leominster, was given a conditional discharge and also banned from keeping dogs for life.
One of the dogs, an American red nose pit bull cross, died shortly after the attack.
The judge ordered the other, a Staffordshire bull terrier cross, to be destroyed.
The brothers had pleaded guilty to being in charge of a dog which caused injury [and] which was dangerously out of control.