Malvern cerebral palsy boy awarded £2.7m after birth error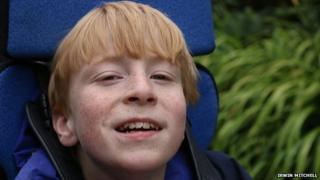 A 13-year-old boy starved of oxygen at birth, leaving him with cerebral palsy, has been awarded more than £2.7m.
Daniel Spencer, from Malvern, requires round-the-clock care following problems during his labour at Worcestershire Royal Hospital.
Birmingham High Court awarded him a £2.7m lump sum, with additional annual payments for ongoing care.
Daniel's father, Oliver, said it was a "huge relief" to know he had a "secure future".
"We will be able to use the funding to provide vital care and rehabilitation for Dan for the rest of his life, " he said.
Lawyers Irwin Mitchell, which represented the family, said with additional annual payments for specialist care, accommodation, equipment and rehabilitation, the overall total could be as high as £6.5m.
'Wonderful boy'
Daniel needs a wheelchair and struggles to communicate because of his condition, which arose after midwives did not react quickly enough when his mother Susan began bleeding during labour.
They also failed to notify a doctor of the child's fluctuating heart rate.
In a statement, the trust said: "Worcestershire Acute Hospitals NHS Trust sincerely regrets the injury suffered by Daniel at the time of his birth on 15 May 2001.
"The trust is pleased the legal claim has now been settled and damages, including periodical payments, have been agreed so that Daniel's future is provided for."
Mr Spencer described his son as a "wonderful boy [who] continues to amaze us".
"It's a huge relief knowing the settlement will provide for a secure future for Daniel and that his specialist care needs will be met for the rest of his life.
"While we will always help out where we can, he needs the support of experts in the field who can help him to achieve as independent a life as possible."