Pershore couple get payout for 'disaster' honeymoon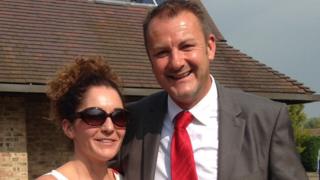 A couple whose honeymoon was ruined by illness have received a settlement from the tour operator.
Anthony and Maria Pearman, from Pershore, Worcestershire, were honeymooning on the Dominican Republic when Mrs Pearman fell ill and was taken to hospital.
The couple claimed some food at their five-star hotel "appeared undercooked".
Tour operator TUI UK Limited did not admit liability but paid a five-figure sum to the couple.
'Memories ruined'
Mrs Pearman said the honeymoon was "a complete disaster".
"We were bitterly disappointed with the conditions at the hotel," she said.
"I was really unwell for the last week of our honeymoon and was pretty much confined to the hotel resort."
Mrs Pearman, a midwife, suffered from severe diarrhoea, stomach cramps, a fever and dizziness.
The couple said that on occasions some of the food at the hotel appeared undercooked and some food did not appear hot enough.
Elizabeth Tetzner, the couple's lawyer, said: "This should have been the most memorable weeks of their lives.
"Sadly those memories were completely ruined by the illness Maria suffered."
TUI UK Limited have not responded to a request for a comment.