Alexandra Hospital consultants replaced after A&E resignation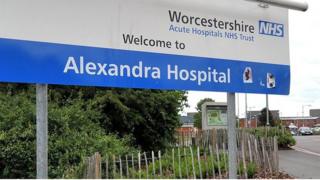 Three new consultants have been appointed at a hospital that saw its entire team of specialists running A&E quit on the same day.
Four consultants at the Alexandra Hospital in Redditch resigned in February over concerns about the future of the hospital.
The trio start in August and "plans are in place" to fill the final post.
A fifth consultant resigned from Worcestershire Royal Hospital, whose replacement was appointed last month.
In a statement, Worcestershire Acute NHS Trust said the consultants currently operate as practising emergency department specialists.
"In addition, we have secured an experienced agency consultant for the June to August months," the trusts said.
Appointments 'too late'
After resigning, all five consultants were subsequently offered jobs at Warwick Hospital.
The consultants said they resigned because they could no longer see a way forward to secure safe and sustainable A&E services at the Alexandra Hospital "especially whilst the current senior management and senior clinical leadership remains in place".
Neal Stote, from the Save the Alex campaign group, said the new consultants would be in position too late.
"We're talking about a start time of August... the first one leaves in May, another one leaving in June and then another two leaving in July," he said.
Chris Tidman, deputy chief executive of the trust, said: "There is a gap, but we've got a plan to fill that gap.
"We've got an experienced agency doctor who's well known around the West Midlands who's with us for three months and we've also got another agency post to come in.
"There's nothing to worry about in terms of high-calibre staff during the interim."