Worcester Cathedral dig unearths Redcap badge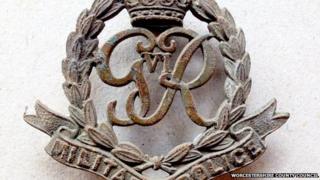 Archaeologists are trying to trace relatives of the owner of a Redcap badge found during a dig in Worcester city centre.
It was recovered from a cellar during excavation work at Worcester Cathedral roundabout.
Experts said the Military Police badge - believed to date to 1936-46 - was in a good condition "for an object buried for over 50 years".
The 10-week dig is taking place ahead of a redevelopment of Cathedral Square.
'Fascinating'
Archaeologists said they had found items from a number of different periods of history, including the foundations and cellars of houses at the west end of Lich Street that were demolished in the 1960s.
There are also some cellars which date from the 18th Century and small bits of Roman and Saxon pottery.
The Redcap badge was found in a cellar on the north side of Lich Street.
The team said: "It is likely to have belonged to a soldier serving in the Corps of Military Police during World War Two.
"The team would love to find out who it belonged to and are currently in the process of researching the names of the occupants of the street, and cross-referencing these with service records."
They called on anyone with relatives who served with the Redcaps and lived on or near Lich Street to contact them.
Who are the Redcaps?
The Royal Military Police is part of the British Army
It polices army personnel and takes on a wider military presence during wartime, guarding depots and bridges and interrogating prisoners of war
The "Royal" prefix was added in 1946 in recognition of the role the corps played in the two World Wars
Members are often known as "Redcaps" because of their scarlet headwear