World record hopes for teddy bear line-up in Alvechurch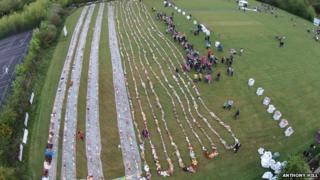 Organisers hope they have smashed a world record after lining up more than 15,000 teddy bears in a cricket field.
The attempt at Alvechurch Cricket Club in Worcestershire aimed to smash the current record of 4,014 lined-up bears.
The event was led by 10-year-old Finlay Church, from Alvechurch, who began raising money for charity after being diagnosed with a brain tumour in 2014.
Family friend Libby Price said organisers were sending evidence to Guinness World Records to verify.
"They had to be a teddy bear, they couldn't be a rabbit or a dog or anything. And we had independent witnesses who verified that as we went round and the whole thing was photographed and videoed."
She said the previous UK record of 1,996 lined-up teddy bears was broken "within a few hours" of the attempt on Sunday. The bears, which have been donated by people including Sir Alex Ferguson, Olly Murs and Rachel Riley, will be given to charities, organisers said.
Finlay and the "Finlay's Journey" team have so far raised more than £25,000 for Birmingham Children's Hospital and Brain Tumour Research.
Mrs Price said: "I would estimate that so far £10,000 was raised on the day or by people paying to have their teddy bears in the line when they donated them over the last couple of months - split between the two charities. The support has been amazing."