Droitwich Spa High School asbestos-find forces closure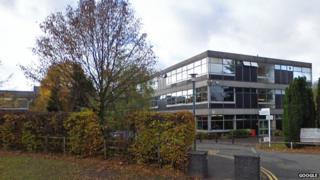 Parts of a Worcestershire school have been closed after asbestos was detected.
Droitwich Spa High School has been closed to Year 9 students while tests are carried out.
A statement on the school website said parts of the school were likely to be closed for "at least the remainder of this week".
Head teacher Natalie Waters said: "It is likely that at least one year group will need to stay at home on each day."
Student safety
A "low level of background asbestos" was detected by surveyors working on a number of new windows in the main classroom block, the school said.
An "emergency programme of expert testing" is under way, with classrooms being reopened once they have been deemed safe.
Chair of Governors Rod Rhodes said: "Our most important responsibility is to ensure the safety of students, teachers and support staff who work in our buildings."
Mrs Waters said the closure had caused some disruption to lessons.
The school said it had contacted its insurers and the Education Funding Agency to see if temporary classroom arrangements can be made.
A Worcestershire County Council spokesperson said: "Although Droitwich Spa High School is an academy and has responsibility for the management of asbestos in its buildings, the county council is providing support in the form of technical and analytical services to ensure that the accommodation is safe for pupils and staff."