Worcester's Gheluvelt Park given listed status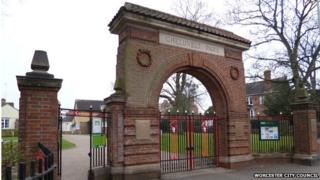 A park in Worcester built in honour of soldiers killed and injured in a World War One battle has been granted protected status.
Gheluvelt Park, was built following the end of the war to commemorate the Battle of Gheluvelt in Belgium in 1914.
Structures in the park were given listed status by Historic England and the park itself was put on the Register of Historic Parks and Gardens.
This means no alterations can be made without special permission.
The park was built in memory of soldiers from the Worcestershire Regiment who lost their lives in one of the earliest battles of the war.
Twelve houses built in the park for disabled servicemen have also been listed, the council said.
The park also features a World War One memorial, water play area and bandstand. The bandstand, along with the park's gates and railings, has also been granted listed status.
Worcester City Council said Historic England - formerly English Heritage - granted the park Grade II listed status "because it is considered a rare example of a war memorial park which successfully combines leisure, sport and commemorative functions, as well as incorporating the houses for disabled servicemen".
The foundation stone for the houses was laid by Field Marshal Sir William Robertson, Chief of the Imperial General Staff during World War One, on 15 January 1919. The park was completed five years later.
Battle of Gheluvelt, 1914
The battle was part of the First Battle of Ypres - a key early conflict of the war as Belgian, British and French forces tried to repel the advancing German armies
On 31 October about 370 men from the 2nd Worcestershire Regiment were instructed to retake the village of Gheluvelt, Belgium, which had been taken the day before
At 14:00 the regiment began the counter-attack, barraged by German artillery
The infantrymen charged and retook Gheluvelt
187 men were killed or wounded but they stemmed the Germans' progress
Source: Worcestershire Regiment Museum