Worcester Cathedral Square dig draws visitors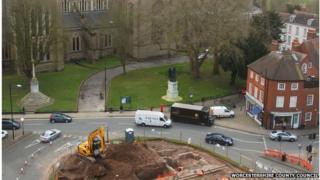 More than 300 people have taken part in tours at a Worcester excavation site.
Archaeologists are studying the ground beneath the centre of a roundabout ahead of a multi-million pound revamp of Cathedral Square.
Worcestershire County Council said public interest in the dig had "soared" with many people following its progress on a blog.
The remains of 18th Century cellars and pieces of Roman and Saxon pottery are among the finds, a spokesman said.
A "pop-up" exhibition of some of the finds was held at Helen's Church in the city earlier. Meanwhile the tours will continue from Wednesday to Saturday next week.
Paul Hudson, from the council's Archive and Archaeology service, said it would like to hear the memories of people who had lived in Lich Street. The dig has uncovered the foundations and cellars of houses at the west end of the street, which was demolished in the 1960s.
A "new public space" will be created in front of the cathedral as part of a retail and leisure scheme.