Malvern Hills introduce ancient cattle to maintain rare grassland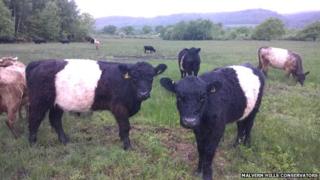 A breed of ancient cattle has been introduced to the Malvern Hills in an attempt to maintain common land.
The Malvern Hills Conservators, the body which looks after the hill range, has bought 20 Galloway cattle to graze on Castlemorton Common.
The common was once a royal hunting ground of 17th Century king, James I.
It was traditionally kept under control by local cattle, sheep and geese, but fewer people are keeping livestock to turn out on to common land.
Rare grassland plants are at risk if scrub and trees grow over open land.
Castlemorton Common
Was the site of a week-long rave in 1992, at which an estimated 40,000 people set up a campsite
The Criminal Justice and Public Order Act 1994 was passed after the rave, to stop any more large-scale illegal festivals
The Act gave the police powers to stop and break up a "gathering on land in the open air of 100 or more persons (whether or not trespassers) at which amplified music is played during the night"
The Malvern Hills are designated an Area of Outstanding Natural Beauty, protected by an Act of Parliament.
The conservators were established under the Malvern Hills Act in 1884 and manage more than 1,200 hectares (3,000 acres) of land on the hills and commons in and around the Worcestershire town.
Conservator Jonathan Bills said: "Livestock grazing has created the Castlemorton Common we know and love today - its unusual flora, open landscape character and geology are all maintained through grazing so it's fantastic to see more cattle out here.
"Hungry mouths keep the vegetation down, making areas much more accessible to walkers and horse riders."
The cattle will be enclosed within temporary fencing to concentrate the grazing effort in priority areas.