Birches Farm, in Herefordshire, is bought by wildlife trust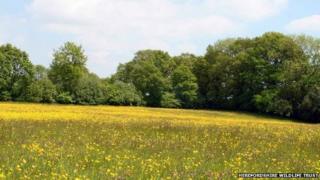 A "time capsule" farm will remain untouched by modern agricultural techniques after being bought by a wildlife charity.
Herefordshire Wildlife Trust plans to create a flagship nature reserve on a 60-acre site at Birches Farm, near Kington, after buying it for £850,000.
The trust purchased the site following a public appeal and now needs to raise further money to develop the farm.
The trust said the farm had "hardly changed in 100 years".
'A time capsule'
In 2014 the farm was designated a Site of Special Scientific Interest (SSSI).
It was bought from the original owners by the Esmée Fairbairn Foundation, which held it until the trust could purchase it outright.
Jim Light, reserves officer, said the previous owners had chosen to farm the land the way their ancestors had.
"Eventually the family had to sell it and it went on the open market," he said.
"There were other farms that wanted to buy it as fallback land but the trust knew it was something special."
The trust will use the existing farm buildings on the site to create an interpretation centre for visitors.
Mr Light said they planned to use traditional equipment and study diaries which detail how the farm was managed for hundreds of years.
The trust's chief executive Evan Bowen-Jones said: "The site is an important example of an old farmstead that has hardly changed in 100 years.
"There are several species of orchid that grow on the site and traditionally-managed hedgerows. It's been farmed by one family in a very traditional way, which means it's a bit of a time capsule."