Worcester could launch congestion charge in city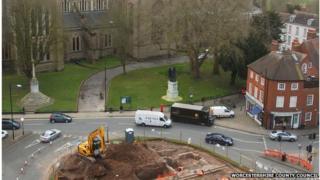 A council is considering tackling its busy city centre by introducing a congestion charge for vehicles.
The proposal is one of a number of ideas being discussed at Worcester City Council's scrutiny committee later.
It recently scrapped a park and ride scheme as part of cost-cutting plans but said congestion remained a "major problem" in the city.
However one councillor, Derek Prodger, urged caution over the charging proposals.
'So popular'
The council said traffic problems in the city had escalated, especially at peak times, adding the delays could affect emergency vehicle response times and cause bottlenecks.
The main bridge and the Powick roundabout were particularly problematic, it added.
The authority said it was considering a number of schemes to manage the traffic, including congestion charges, pedestrianisation and free parking outside the city.
Mr Prodger said: "We are a historical city with old road patterns. We are reviewing what we can do in the city centre."
He was not sure if congestion charges was a step the council should take.
"The reason Worcester is so busy is that it's so popular," he said. "My personal view is you should be very cautious about destroying that."