Cocaine driver Zoe Davies caught 25 times over drug limit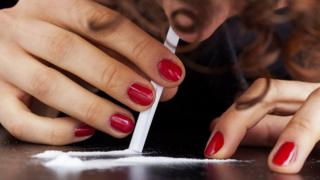 A woman high on cocaine who was caught 25 times over the drug-driving limit has been given a suspended jail sentence and banned from driving.
Zoe Davies was pulled over by police in Upton-upon-Severn, Worcestershire, because her MOT had expired.
But officers carried out a roadside drug test and discovered the 42-year-old was high on the Class A drug.
A later test found she had 1,286 mcg of the metabolised form of cocaine per litre of blood. The limit is 50mcg.
At Worcester Magistrates Court, Davies admitted two counts of driving a vehicle while using a controlled drug above the specified limit.
She was stopped at 01.25 GMT on 20 January in Hanley Road, Upton-upon-Severn, while driving a Volkswagen Fox.
'200 deaths a year'
Davies, of Laburnum Walk, Upton, was sentenced to 18 weeks in custody, suspended for a year, disqualified from driving for three years and ordered to pay costs of £135.
Legislation was brought in covering legal driving limits for 17 illegal and prescription drugs in March 2015.
Previously, police had to show driving was impaired by drugs to prosecute.
Earlier this year, government figures showed more drug-drivers were being arrested and convicted since the new laws were introduced in England and Wales.
According to road safety charity Brake, drivers impaired by drugs are responsible for up to 200 deaths a year on British roads.
Motorists convicted of drug-driving face a minimum one-year driving ban, a fine of up to £5,000 and up to a year in prison.